Steve Cortes, a former Donald Trump supporter who advises the pro-DeSantis super PAC Never Back Down, admitted the DeSantis campaign faces an "uphill battle" in the Republican primary race, as the former president stands as the "runaway frontrunner."
Speaking during a Twitter Spaces event on Sunday night, Cortes made it clear that he believes in being "blunt and honest" about the way things are in the race.
"Right now in national polling we are way behind, I'll be the first to admit that," he said according to Politico, asserting that there is certainly "an uphill battle" for DeSantis moving forward.
"But clearly Donald Trump is the runaway frontrunner," Cortes, who worked on Trump's past campaigns, admitted.
While he tried to strike a more positive tone, asserting that the early state polls are "tighter," he acknowledged Trump still maintains a solid grip on the primary, essentially making DeSantis the "underdog."
"If we do not prevail — and I have every intent on winning, I didn't sign up for this to come in second — but if we do not prevail I will tell you this, we will make President Trump better for having this kind of primary," he said, expressing the belief that Trump has not "gained" any voters since 2020.
Indeed, Trump has continued to dominate in poll after poll, both nationally and on the state level.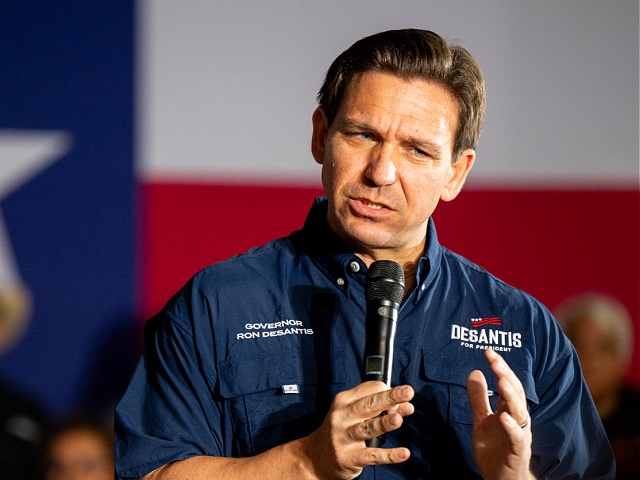 For instance, a recent Anselm College Survey Center survey examining the race in New Hampshire showed Trump with a 28-point lead in the Granite State over DeSantis. That trend is also in favor of Trump, as his 47 percent support reflects a five-point increase since March, whereas DeSantis's 19 percent support selects a ten point decrease since March.
Similarly, a National Public Affairs poll released last week showed Trump up 23 points above DeSantis in the early state of South Carolina. Further, last week's Morning Consult survey showed a majority of Republican primary voters — 57 percent — supporting Trump. DeSantis fell 38 points behind with 19 percent support.
However, polls in July are those that will be taken into consideration for candidates to qualify for the August 23 Republican National Committee (RNC) debate. While it remains unclear if Trump will participate — rumor has it he is considering alternate programming — Cortes subtly suggested non-participation could benefit DeSantis.
"Is Ron the debater that Trump is?" he asked. "No, no he isn't."
"Absolutely Donald Trump is the maestro of it right, no doubt about it, right," Cortes continued. "When he gets on the debate stage, you know, and on his feet, in front of a microphone, he debates like Jack Nicklaus played golf, there's no doubt about it."
Cortes also made it clear that he was "honored" to work for the former president but added that one can be "reasonable about where he fell short and what the path is moving forward," and he believes that is DeSantis.