Evidence has emerged, from the Israel Defense Forces (IDF) as well as independent (and even hostile) media, showing that it was an errant Palestinian terrorist group's rocket, and not an Israeli airstrike, that hit a hospital in Gaza City on Tuesday evening.
Video, radar, maps, media coverage of the impact cite, and an intercepted call between two Hamas operatives all suggest that a Palestinian group's rocket, launched near the hospital, misfired and hit the parking lot, causing a fire and apparent casualties.
RAW FOOTAGE: A rocket aimed at Israel misfired and exploded at 18:59—the same moment a hospital was hit in Gaza. pic.twitter.com/Kf5xJazSap

— Israel Defense Forces (@IDF) October 17, 2023
The first reports, from the Hamas terrorist group and media organizations operating under its jurisdiction, were that an Israeli airstrike had hit the al-Ahli Baptist Hospital in Gaza City, killing 500 people in a deliberate "attack" on the Christian hospital.
News agencies picked up the claim and repeated it. Getty Images published a map showing where the "Israeli attack" took place:
Here's the false map from @GettyImages — still up for media worldwide to spread — accusing Israel of attacking the hospital, based on Hamas sources. Map was made in Turkey. This is how lies spread, how future generations are taught to hate Israelis and Jews. No retraction, yet. pic.twitter.com/VuD8qZajPV

— Joel Pollak (@joelpollak) October 18, 2023
Anti-Israel activists on X/Twitter seized upon social media statements by pro-Israel "influencers" as proof Israel was to blame.
The earliest reports from official Israeli sources were that the IDF was investigating the explosion, and that it looked like the hospital might have been hit by an errant Hamas rocket — a frequent occurrence, given the rockets have no guidance systems.
Later, the IDF stated definitively that it had concluded that the hospital had been hit by a Palestinian rocket — not fired by Hamas, but rather by Iranian-controlled Palestinian Islamic Jihad (PIJ), a smaller group that is fighting alongside Hamas.
IDF spokesman Lt. Col. (res.) Jonathan Conricus went onto international news shows to push back against the narrative:
Telling @wolfblitzer that we stand by our claim, which is based on intelligence and a thorough review, that a rocket fired by the Islamic Jihad hit the Al Ahli Hospital last evening. Hamas tries to use every humanitarian event in its information warfare campaign. pic.twitter.com/jfmVgKY31N

— Jonathan Conricus (@jconricus) October 18, 2023
Apalled by the double standards in reporting: breaking coverage on @BBCWorld automatically blames Israel for an explosion at a Gaza hospital, based solely on what terrorist Hamas claims!
And when we investigate and refute the claims, evidence must be delivered. I have no issue… pic.twitter.com/EJTOLFKmk7

— Jonathan Conricus (@jconricus) October 18, 2023
But the public relations damage had been done. World leaders, like Canadian Prime Minister Justin Trudeau, declared that "it's not acceptable to hit a hospital," and implied that Israel had violated international law in supposedly doing so. Rioters in Arab and Muslim countries attacked U.S. and Israeli embassies. Arab leaders from Egypt, Jordan, and the Palestinian Authority canceled a meeting with President Joe Biden in Amman, Jordan, to discuss ways to deliver humanitarian aid to Palestinians.
Biden himself, en route to Israel on Air Force One, seemed inclined to accept the Palestinian narrative — at least at first. The White House condemned the hospital explosion, and promised an investigation; later, spokesman John Kirby even refused to give Israel the benefit of the doubt. Journalists prodded the White House to cancel or delay the trip.
But by the time Air Force One landed, the evidence was overwhelming: Israel did not strike the hospital, and was not attacking in the area; the damage was much smaller than initially indicated; and the culprits were almost certainly the terrorists whose rocket misfired, not Israel itself.
Here is the evidence that emerged.
There were initial claims that video footage — including a live shot from Al Jazeera — showed an errant rocket hitting the hospital.
Contrary to what people (including @RashidaTlaib) are saying about Israel attacking a hospital in Gaza, here's a live feed that shows a rocket – shot by Hamas – misfire and hit the hospital.

Just another lie being spread by @RashidaTlaib and her fellow terrorist sympathizers. pic.twitter.com/ipUzyRV647

— Yaakov Strasberg (@YaakovStras) October 17, 2023
Footage from the Israeli community of Kibbutz Nativ Ha'asara on the Gaza border shows the rocket barrage launched from the enclave, and a fire breaking out as one rocket falls back inside Gaza.

The barrage occurred at 6:59 to 7:02 pm local time and targeted dozens of Israeli… pic.twitter.com/iZuFBvv7hk

— David Saranga (@DavidSaranga) October 18, 2023
Check your own footage before you accuse Israel.

18:59 – A rocket aimed at Israel misfired and exploded.
18:59 – A hospital was hit in Gaza.

You had one job. https://t.co/iCgYOkaE84 pic.twitter.com/Ag2mKCBb6M

— Israel Defense Forces (@IDF) October 18, 2023
Israel's Channel 12 also aired surveillance footage that appeared to back the claim that a Palestinian rocket hit the hospital. The channel repeated the report in English and Arabic to ensure it would be circulated outside Israel among non-Hebrew speakers.
Share the truth!#HamasisISIS pic.twitter.com/nqfG9UJCwt

— רו𝕏י Roi  (@Roi_) October 18, 2023
There was also speculation from other sources, though unconfirmed, that Hamas had announced that it was firing a rocket at the Israeli city of Haifa at roughly the same time the hospital was hit. However, Hamas was not the immediate culprit (see below).
The IDF determined none of its forces were operating in, or targeting, the area of the hospital. It studied radar it uses to intercept Palestinian rockets to determine that a barrage of rockets had been fired along a path that intersected with the airspace above the hospital.
It also studied surveillance camera footage of the Gaza Strip, and concluded an errant Palestinian rocket was to blame.
The IDF released an intercepted recording of a phone call between two Hamas operatives discussing the hospital explosion, and saying that the rocket had been launched by PIJ from a cemetery next to the hospital (itself a violation of international law).
IDF releases a recording of an intercepted phone call between two Hamas operatives who discuss the failed Islamic Jihad rocket that landed on the Gaza hospital. pic.twitter.com/ozoXclXLxD

— Emanuel (Mannie) Fabian (@manniefabian) October 18, 2023
The IDF released photographs and footage from drones that showed the impact hit the hospital's parking lot, and not the hospital itself. Moreover, the impact did not leave a crater, as would be typical with an air strike, but rather caused a fire and scattered shrapnel.
A failed rocket launch by the Islamic Jihad terrorist organization hit the Al Ahli hospital in Gaza City.

IAF footage from the area around the hospital before and after the failed rocket launch by the Islamic Jihad terrorist organization: pic.twitter.com/AvCAkQULAf

— Israel Defense Forces (@IDF) October 18, 2023
An IDF spokesman, answering questions from reporters, said that casualties may have occurred in the parking lot because civilians could have been gathering there as a shelter, but there was little significant damage to the building itself.
That claim was supported by images in the media, and on social media, showing the hospital in the aftermath:
🧵Now that day has broken, and we're getting better evidence, I'm willing to share some PRELIMINARY thoughts on the al-Ahli hospital explosion. The photos of the scene are, to me, not consistent with an airstrike and are not consistent with claims that 500+ people were killed. pic.twitter.com/dzA3Bx71hr

— Nathan Ruser (@Nrg8000) October 18, 2023
Full footage from TASS, no impact craters, interior spaces appear to be intact. Injuries from flying glass appear to have occurred. pic.twitter.com/XCP8mG5YGx

— OSINTtechnical (@Osinttechnical) October 18, 2023
Update on the chapel at the Ahli Hospital in Gaza, the building lost several of its stained glass windows in the explosion, but otherwise appears to be intact. pic.twitter.com/LTnEqXe35V

— OSINTtechnical (@Osinttechnical) October 18, 2023
The extent of the damage, according to the IDF, was due to the fact that the rocket struck while it still had most of its fuel.
An IDF spokesman told the media that Hamas had deliberately inflated the casualty numbers — claiming "500" (which was also the number of dead falsely claimed in a 2002 battle in Jenin, in the West Bank) within minutes — to inflame world opinion.
The IDF also released a map of all of the failed rocket launches in Gaza since the start of the war, to show additional context:
The evidence showed by the IDF convinced the U.S. that Palestinian terrorists, and not an Israeli airstrike, were responsible for the hospital explosion. Biden, meeting with Israeli Prime Minister Benjamin Netanyahu, said that it appeared the explosion had been the fault of the "other team."
UK Foreign Secretary James Cleverly also agreed, saying that "too many jumped to conclusions" and that reporters ought to "Wait for the facts, report them clearly and accurately. Cool heads must prevail."
The IDF later released photographs showing the tendency of Palestinian terrorists to fire rockets near civilian institutions — a violation of international law.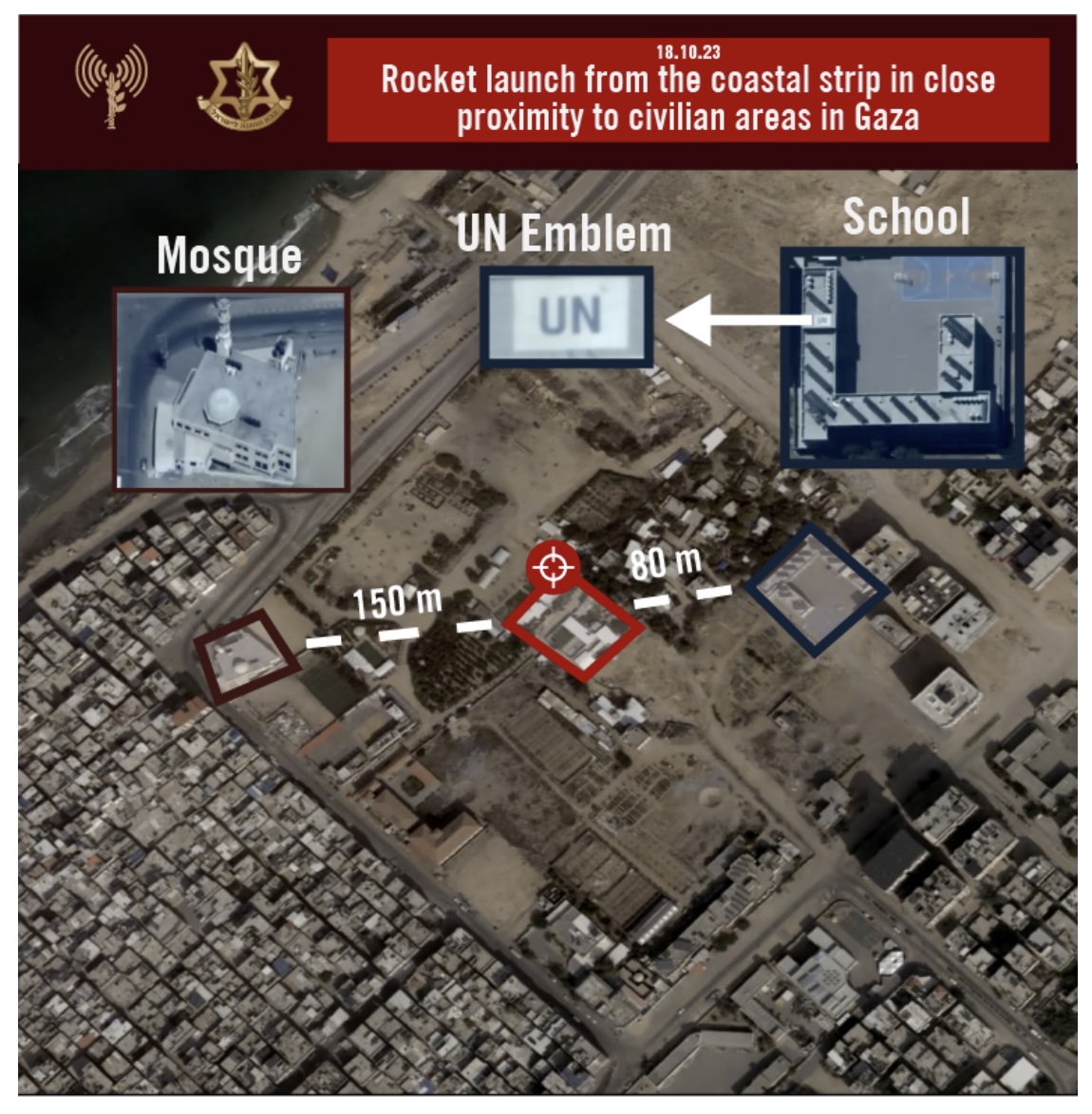 It also released an infographic showing the increased incidence of failed Palestinian rocket launches since the start of the war.
Israel continues to strike Palestinian terrorist targets as it responds in self-defense to a Hamas terror attack on Oct. 7 that killed 1,400 Israelis, wounded 4,399 more, and saw 199 taken as hostages. Israel's stated goal is to destroy Hamas's military capability.
Joel B. Pollak is Senior Editor-at-Large at Breitbart News and the host of Breitbart News Sunday on Sirius XM Patriot on Sunday evenings from 7 p.m. to 10 p.m. ET (4 p.m. to 7 p.m. PT). He is the author of the new biography, Rhoda: 'Comrade Kadalie, You Are Out of Order'. He is also the author of the recent e-book, Neither Free nor Fair: The 2020 U.S. Presidential Election. He is a winner of the 2018 Robert Novak Journalism Alumni Fellowship. Follow him on Twitter at @joelpollak.