Now former U.S. Women's National Team captain Megan Rapinoe delivered one last insult to the United States by refusing to put her hand over her heart or sing the national anthem in her final game as a professional soccer player with the USWNT.
Rapinoe played her final game on Sunday, Sept. 24, in a game against South Africa in Chicago's Soldier Field, and as the game kicked off, the national anthems for the two countries were played.
But, while she at least remained standing this time instead of taking a knee, Rapinoe did not place her hand over her heart as is tradition or sing along with the lyrics as most of the other USWNT players did, the Daily Mail reported.
Megan Rapinoe stays silent during anthem at final USWNT match https://t.co/ESVhzVY0gt via @MailSport

— Brian Craig 🇺🇸 (@BrianCraigShow) September 25, 2023
Rapinoe vowed back in 2019 to never respect the United States again by singing the national anthem.
"I'll probably never put my hand over my heart. I'll probably never sing the national anthem again," Rapinoe said, adding she views herself as "a walking protest when it comes to the Trump administration" because of "everything I stand for.
"I feel like it's kind of defiance in and of itself to just be who I am and wear the jersey, and represent it," Rapinoe said. "Because I'm as talented as I am, I get to be here, you don't get to tell me if I can be here or not. So it's kind of a good 'F you' to any sort of inequality or bad sentiments that the [Trump] administration might have towards people who don't look exactly like him. Which, God help us if we all looked like him. Scary. Really scary. Ahh, disturbing."
She had already been taking a knee during the anthem for nearly four years at that point, saying she did so to support ex-NFL second-string quarterback Colin Kaepernick.
Rapinoe also explained that it would "take a lot" for her to stop her anti-American demonstrations.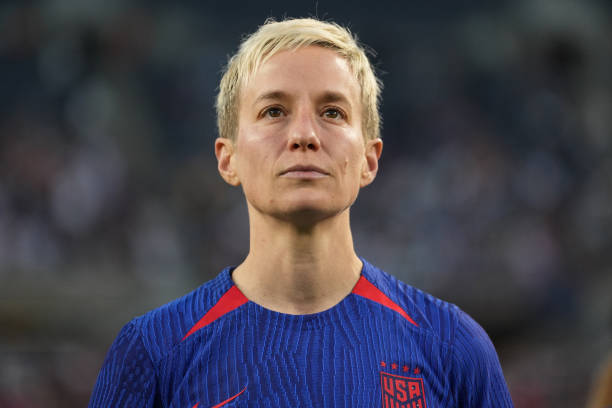 "It would take a lot" to end her protest, Rapinoe said. "It would take criminal justice reform. It would take the huge inequality gap that we have to be much better. It would take a lot of progress in LGBTQ rights. We have such a disparity in this country in so many different ways, inequality in so many different ways."
Rapinoe was honored for her career ahead of Sunday's game with a framed jersey reading"Rapinoe, 203 CAPS."
The USWNT beat South Africa 2-0, sending Rapinoe off into retirement with a win. The team has two more games to end the season, both against Colombia next month.
Follow Warner Todd Huston on Facebook at: facebook.com/Warner.Todd.Huston, or Truth Social @WarnerToddHuston