Top Chinese diplomat and Politburo member Wang Yi demanded America "uphold mutual respect" and "properly handle the Taiwan question" during talks with John Kerry on Tuesday, the White House's special envoy for climate alarmism.
Kerry landed in Beijing on Sunday, allegedly to discuss ways to address the climate "crisis" with the Chinese Communist Party, whose government is the world's worst carbon emitter and a leader in other forms of pollution, such as maritime waste. His first meeting on Monday was with his Chinese counterpart, special representative for "climate change" Xie Zhenhua. The meeting, Chinese state media reported, lasted four hours but did not result in any concrete agreements.
Wang Yi, who has returned in a prominent diplomatic role after the mysterious disappearance of Chinese Foreign Minister Qin Gang, met with Kerry on Tuesday less than a week after an in-person conversation with American Secretary of State Antony Blinken in Jakarta, Indonesia, where both were attending a summit of the Association of Southeast Asian Nations (ASEAN).
Wang used that opportunity to berate Blinken on "China's stern position on the Taiwan question," according to the Foreign Ministry readout of the meeting, and to urge "the U.S. to avoid wantonly interfering in China's internal affairs or undermining China's sovereignty and territorial integrity, stop suppressing China in economy, trade, science and technology, and lift the illegal and unwarranted sanctions against China."
As Kerry's portfolio is far narrower than Blinken's, Wang reportedly did not linger China's illegal claims over Taiwan, but did steer the conversation away from climate to emphasize Beijing's opposition to Washington and Taipei having any relationship. Wang pressured Kerry to help America "pursue a rational, pragmatic and positive China policy, continue to adhere to the one-China principle, properly handle the Taiwan question, and work with China by upholding mutual respect," according to China's state-run Xinhua News Agency.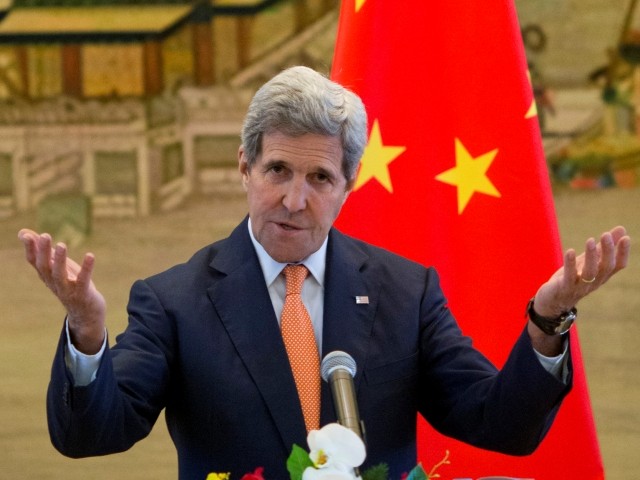 Taiwan is a sovereign island nation off the coast of China, with an independent state structure and no history of governance under the Chinese Communist Party. Beijing claims China as a "province" and refuses any diplomatic ties with countries that recognize the reality of Taiwanese sovereignty. The idea that Taiwan is a province of China with no independent government is known as the "one-China principle."
The United States has never adhered to the "one-China principle," but rather adopted, during the presidency of Jimmy Carter, the "one-China policy" – which states there is only one China in the world but does not specify if the "true" China is the People's Republic of China or the Republic of China (Taiwan). Washington sells weapons to the Taiwanese government and regularly welcomes government officials to the country, but does not maintain formal diplomatic ties with the Taiwanese government or allow it an ambassador on U.S. soil.
The Communist Party's latest complaint about U.S.-Taiwan relations stems from a planned stop in America by Taiwanese Vice President William Lai, a top presidential contender, on his way to Paraguay for the inauguration of President-elect Santiago Peña.
"China is firmly opposed to any form of official exchanges between the United States and Taiwan," Chinese Foreign Ministry spokeswoman Mao Ning said on Monday. "We firmly reject Taiwan independence separatists visiting the U.S. under any name and for any reason, as well as any form of the U.S. connivance and support of the Taiwan independence separatists and their separatist activities."
Blinken, addressing reporters on Monday, dismissed the objection, noting, "we expect that he will transit the United States on both the incoming and outgoing legs of a trip that he plans to take to Paraguay for the inauguration in Paraguay. This is very routine given the distances traveled to have a transit point. … There is no reason for the PRC [China] to use this transit as a pretext for provocative action."
Kerry reportedly did not address any specifics about Washington's Taiwan policy with Wang Yi, but nonetheless responded to Wang's demands conciliatorily, Chinese state media claimed.
In fairness to China, ANY John Kerry visit is useless. So, yeah, there's that. https://t.co/eWBH6FnwCy

— Breitbart News (@BreitbartNews) July 17, 2023
According to Xinhua, Kerry, in his capacity as climate enjoy, told Wang, "The United States always adheres to the one-China policy and stands ready to strengthen cooperation with China in the spirit of mutual respect, properly handle differences between the two countries, and jointly cope with climate change and other global challenges."
The State Department's statement on Kerry's conversation with Wang did not mention Taiwan at all.
"Secretary Kerry emphasized how critical it is for China to increase its ambition and accelerate the reduction of emissions," the State Department claimed. "He stressed that the world expects both nations to cooperate on climate and reaffirmed that the United States and the PRC cannot let bilateral differences stand in the way of making concrete progress on shared transnational challenges."
The State Department also claimed Kerry pressured China to "accelerate decarbonization," among other issues related to the environment.
Kerry's visit to Beijing is part of leftist President Joe Biden's campaign to rehabilitate the relationship between the American government and the Chinese Communist Party, which has become increasingly hostile as a result of China's gross human rights violations, espionage, intellectual property theft, and belligerence towards America's allies in the South China Sea. Tensions came to a peak in January following the discovery of a Chinese balloon floating over Montana, later identified as a surveillance vessel, that ended up flying across the continental United States before Biden ordered it shot down in the Atlantic Ocean. Reports indicate that it collected critical information over military sites.
The balloon incident reportedly caused Blinken to cancel a planned trip to Beijing in February and stunted diplomacy between the two nations – Chinese officials claimed to be outraged that Biden shot it down, describing it as a "civilian" weather balloon. Following a meeting between Biden and Chinese dictator Xi Jinping in November, the two agreed to restart communications, resulting in Blinken's visit last month, a visit to China by Treasury Secretary Janet Yellen early this month, and Kerry's ongoing visit.
In addition to talks with Wang, Kerry has met two other high-ranking Chinese officials in Beijing so far: Chinese Premier Li Qiang and Chinese climate representative Xie Zhenhua. According to China's state-run Global Times propaganda newspaper, their meeting on Monday lasted four hours. The Times bristled at the possibility that the talks would lead to Kerry requesting that China do anything to curb its prodigious greenhouse gas emissions or keep its environment relatively clean.
China Joe reiterated that John Kerry is "leading" the country's upcoming global warming effort despite his private jet usage. https://t.co/IGhD0f0PmE

— Breitbart News (@BreitbartNews) September 10, 2021
"Washington claims to seek climate cooperation while maintaining its suppression of Beijing in areas such as trade and technology," the outlet said, citing pro-Communist Party "experts," "and has been flip-flopping on climate policy under partisan politics, creating obstacles for China-US cooperation in this field."
The "flip-flopping" in question, the Global Times went on to clarify, are normal changes in American government that result from elections.
"If Republicans occupy the White House, some of the Democrats' current efforts will soon be dismissed, and such inconsistent, uncertain climate policies are the biggest obstacle to China-US climate cooperation," one "expert" was quoted as fretting.
Prior to Kerry's meeting with Xie on Monday, the Global Times predicted that "no concrete progress" would emerge from his visit to Beijing.
Follow Frances Martel on Facebook and Twitter.